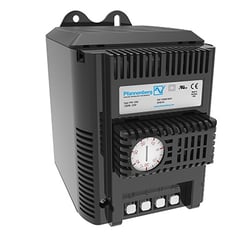 PROTECT SENSITIVE ELECTRONICS
from damaging condensation caused by changes in temperature or humidity.
Pfannenberg's New PFH-T Compact Fan Heater
is perfect for maintaining the precise temperatures and condensation management required for the proper function of electronics
.
Self Service Kiosks
Irrigation and Outdoor Pump Control Systems
Surveillance and CCTV Systems
Telecommunication Systems
Traffic Control Systems
ATMs
Rooftop Control Systems
Parking Control Enclosures
Pfannenberg's new PFH-T Compact Fan Heater is available with heating capactities ranging from 200 W to 1200 W. Check out our additional enclosure heaters and enclosure thermostats. Helping customers for over 60 years with their thermal management solutions.