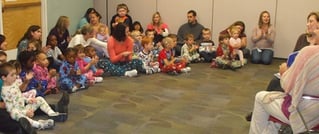 On Thursday, October 6th, Pfannenberg participated in "Read for the Record", a national literacy campaign and attempt to set a world record for the largest number of people reading the same book on the same day.
"Llama Llama Red Pajama" a children's picture book by Anna Dewdney was read throughout the day at Buffalo Hearing & Speech Center, by Dana Genco, Marketing Team Leader, Pfannenberg Inc., and Mary Beth Billitter of Chef's Restaurant, among others.
This year's event, held in local schools, libraries and churches, included the participation of nearly 28,000 children, twice the number of participants from last year. In an opportunity to "make words come alive" and create excitement for the story and event, many of the venues brought in live llamas from area farms and even the SPCA. Llamas walked the halls of schools and some even wore red pajamas. This was an extraordinary event for some area children, many of whom have never seen a live llama.
Altogether, the story will be read to more than 2 million children throughout the nation.
More news here!