Every year, the Red Dot Award's –the most important competition for product design- honors companies from across the globe, recognizing their innovations and product design excellence.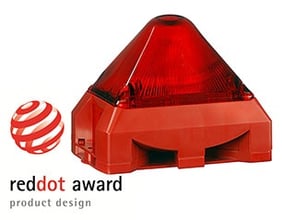 By winning the honorable 2015 Product Design award, Pfannenberg's PYRA-MA Flashing Alarms were proudly recognized by the international jury for their quality and design excellence.
The PYRA-MA flashing sounder has an elegant pyramid design which tapers to the outside and/or top, so the alarm device settles closely against every surface contour. With its stylistcally confident design, the PYRA-MA series can fit in every room and for every machine shapes.
The integrated sound outlets give the device clear "eyes" resulting in a classical-futuristic design.
The PYRA-MA is designed for simultaneous or separated visual or audible alerts (10 joule light output and 100 dB(A) volume). Thanks to the high system of protection (IP 66 and IK 08), and their resistance to a wide ambient temperature range (-40 to + 55°).
Pfannenberg's industrial signaling products are the best solution for many applications worldwide including machine construction (start-up warning, machine safety) and commercial buildings (fire and gas alerting). Due to the large signaling area, the amount of signaling devices required is significantly reduced and the application remains economical while ensuring industrial safety.
Professor Dr Peter Zec, Founder and CEO of the Red Dot Award stated: "The laureates of the Red Dot Award: Product Design 2015 have demonstrated exceptionally high achievements and have thus been deservedly successful in the world's largest design competition."
Pfannenberg industrial alarms with visual and audible notifications come with a standard 10-Year Warranty, guaranteed to protect man, machine and the environment.
Click here to learn more about Signaling Technology and Solutions!