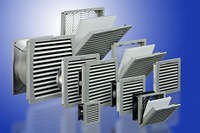 The new NEMA Type 12 Filterfan® system provides a new patented filter mat and louver design. The newly patented louvre design provides protection against dust and water mist while making it easier to change filtermats with its hands-free hinge design. Contrary to other Type 12 Filtered Fans on the market, the new Pfannenberg Type 12 solution does not reduce the system's air throughput. The optimized and newly patented filter mat design allows the 4th Generation Filterfans® to maintain air throughput with a Type 12 seal while reducing maintenance downtime.
The cutting edge 4th Generation Filterfans® feature a classic flat modern industrial design and easy assembly and maintenance without the need for tools. The patented 4-corner fastening system ("Click and Fit!") eliminates bolts and screws to provide a hardware-free installation which reduces installation time, saving customers up to 15 minutes of labor time per installation.
Another new feature is the utilization of tension clamp technology. Using Tension clamp technology for wire connections requires very little preparation of the wire and no special tools, leading to a 50% reduced wiring time and a high degree of connection security.
All 4th Generation Filterfans are UL recognized to UL 508a, category NITW2/8, UL File #E175229, CE approved for European use. They are also made from strong, heat resistant (ABS-FR), UL 94 VO fire approved materials and are available in light grey or black grill colors.
Pfannenberg applied for 10 different patent innovations and registered designs to assure the uniqueness of the new 4th Generation Filterfans®