Pfannenberg, a worldwide leader in thermal management, has introduced two new additions to the industry-leading DTS 3000 Series side-mount cooling units for industrial electrical enclosures.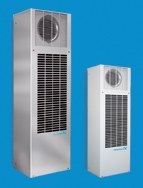 The new DTS 31x5 and DTS 32x5 cooling units enhance the DTS 3000 Series with 5-7,000 and 9-12,000 Btu/h ranges. The two new designs are offered in NEMA Type 12, NEMA Type 3R/4 and stainless steel NEMA Type 4/4X designs, with operating voltages of 115 VAC, 230 VAC or 460 VAC for a total of 18 new models.
Pfannenberg's innovative new design combines fit, form and function. With balanced and bold aesthetics, the new DTS 3000 Series cooling units also provide practical and energy efficient features to assist engineers in solving the most demanding applications like enclosure cooling. The 12-inch depth of the DTS 31x5 can be installed standard into 12" deep NEMA enclosures, while long internal airflow paths maximizes cooling performance and energy efficiency while providing years of trouble-free field operation.
The indoor NEMA Type 12 units can be used for a variety of industries including material handling, textile, glass, automation and assembly. The outdoor NEMA Type 3R/4 cooling units can be used in applications such as telecom, renewable energy (solar and wind) and outdoor electronic applications such as electronic billboards and kiosks. The stainless steel NEMA Type 4/4X version is ideal for all wash-down related applications including food and beverage, pulp and paper, waste water management, packaging and marine applications.
Pfannenberg's Lancaster, New York location engineers and produces products such as filterfans, cooling units, enclosure heaters, air to water heat exchanger, chillers, hydrostats and thermostats- all used for thermal management of industrial electrical enclosures. By keeping electronics in cabinets (or enclosures) from overheating, Pfannenberg provides an invaluable service to companies, helping to keep their machinery and operations consistently running. By developing and producing products which are designed to save energy and other resources, Pfannenberg operates by their business philosophy - "Safety for man, machine and the environment."
Click here to discover our Cooling Unit range!