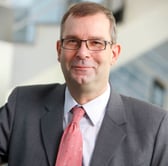 Andreas Pfannenberg was honored as the "Family Entrepreneur of the Year for 2015" by the "Family Business Association of Hamburg, Germany" where Pfannenberg's Headquarters are located. Pfannenberg as a company was recognized as "a model for successful medium sized companies".
This acknowledgment not only recognizes the company's leadership in the thermal management market but also its high level of innovation that drives the company's success worldwide.
Culture of innovation
The global culture of the company based on 'Sharing Competencies enables the development departments, located on its four production sites: Germany, China, USA, Italy to continuously design products and solutions that are innovative, efficient and reliable. Andreas Pfannenberg stated "We generate about 40 percent of our turnover with products that are younger than four years old".
Pfannenberg offers a complete range of products and solutions for Thermal Management and Signaling Technology. Electronics cooling products include Filterfans®, Enclosure Cooling Units, Air/Water Heat Exchangers and Chillers. We also offer a wide range of industrial alarms to provide protection for personnel and plant processes.