Don't miss the Baking Expo which will take place in Las Vegas, NV from October 8-11, 2016, bringing together more than 20,000 Baking Professionals from more than 100 countries!

At IBIE 2016 you will discover our latest Thermal Management Solutions dedicated to the Baking Industry. We will be featuring our specifically designed Liquid Based Enclosure Cooling Solutions perfectly adapted to aggressive ambient air environments and systems that require a very high IP class (up to IP 65).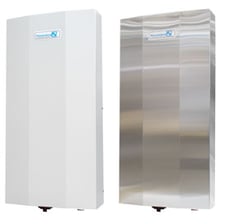 To keep your drives/electronics running and to avoid operations grinding to a halt, specifically those found in areas with high flour and high particulate in the air. Pfannenberg's PWS Air Water Heat Exchangers. are an ideal solution for efficient, trouble free cooling of electrical enclosures. Our system can easily use an existing glycol or cool water source already available in the factory to cool your electrical cabinets.
Pfannenberg will also exhibit our Chiller Solutions for both process cooling or as a liquid cooling source for our Air Water Heat Exchangers.
As recognized member of BEMA Association (Bakery Equipment Manufacturers and Allieds), Pfannenberg is proud to participate to the continual improvement of the baking and food industries.
VISIT US @ BOOTH #9247 - To SEE HOW WE HAVE MADE IT POSSIBLE FOR OTHER COMMERCIAL BAKERIES TO ELIMINATE DOWNTIME, REDUCE MAINTENANCE AND SAVE ENERGY COSTS WITH OUR COMMERCIAL BAKERY ENCLOSURE AND PROCESS COOLING SOLUTIONS.

The Baking Expo™ (IBIE) is produced by the American Bakers Association (ABA) and the Baking Equipment Manufacturers and Allied (BEMA).
Click here for more information about IBIE.