Pfannenberg's Cooling Solutions Help Keep Equipment Running for One of the Fastest Growing Independent Wholesale Bakers in America.
Flour is one of the paramount enemies of electrical enclosures and enclosure air conditioners, particularly in the make-up area of a commercial bakery.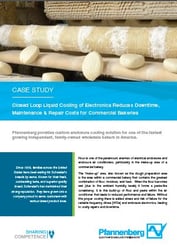 Pfannenberg is your proven partner for complex thermal management challenges in the baking industry. High security classes of equipment and corrosion-resistant construction materials resist even the most difficult ambient conditions.
Keeping the electronics cool which power the machines is essential to the entire operation of the Schwebel Baking Company. Without the electrical enclosures staying cool, the machines fail and require replacement or downtime for repair. Inside a baking facility, there is lots of dust/flour throughout the air and can clog the operating machines.
Pfannenberg's PWS Series Air to Water Heat Exchangers were the precise solution for Schwebel's manufacturing process. Incorporating closed loop cooling with Air/Water Heat Exchangers improved performance, reduced maintenance, was energy efficient, and prevented unplanned repairs.
---
Click Here to download the Bakery Air to Water PWS Case Study.
---
Be sure to follow our Food and Beverage LinkedIn Showcase Page!